LA BORINQUEÑA - PLAYUELA SE DEFIENDE - Black Tee **Designed Exclusively for Vive Borikén**
$

30.00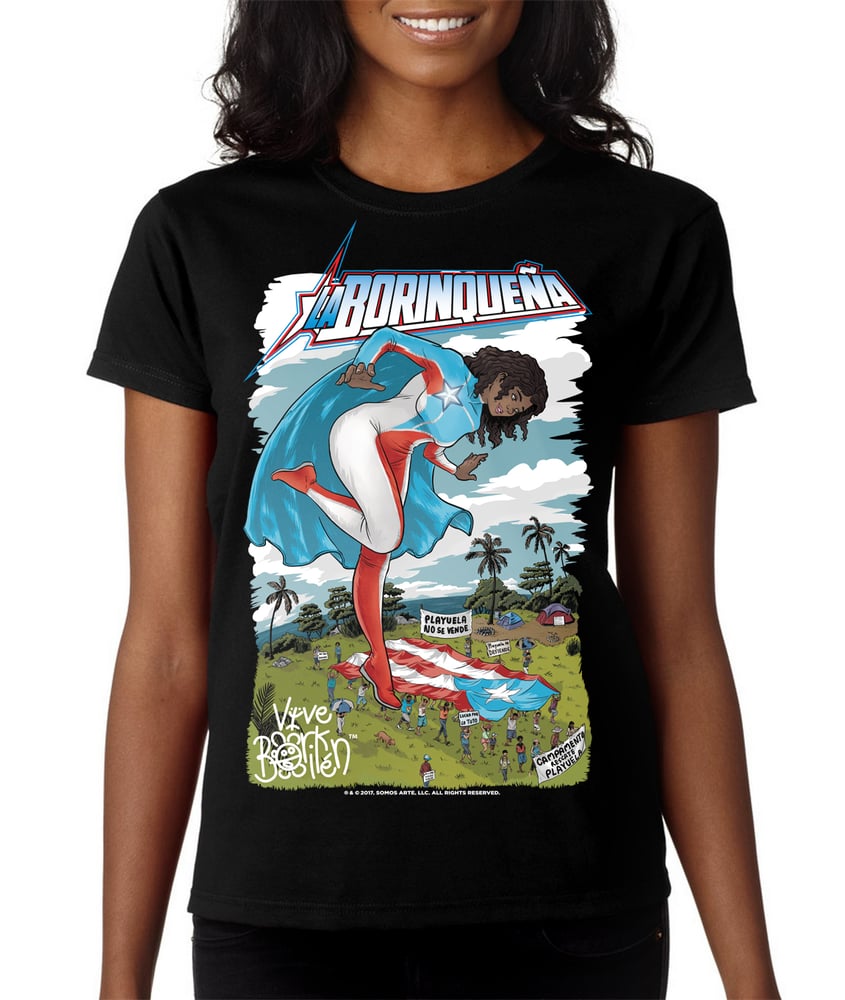 The only place to get your Official LA BORINQUEÑA - PLAYUELA SE DEFIENDE t-shirt!
Our favorite guerrera warrior, La Borinqueña, contacted Vive Borikén on her way to visit the Campamento Rescate Playuela in Aguadilla... and the rest is history in the making! Thank you, Borinqueña, for your support, for all the good you do in Borikén, and for Uniting with Vive Borikén and the Campamento Rescate Playuela in Positivity and Action!
[This La Borinqueña artwork has been exclusively and officially licensed to Vive Borikén to help raise money, all rights reserved. ©Somos Arte, LLC]
*************
All proceeds are used to support our network programs and causes in Puerto Rico, including the Camp at Playuela.
10% of the proceeds from THIS shirt will be donated DIRECTLY to help cover the day-to-day expenses of the Campamento Rescate Playuela in Aguadilla.
*************
Vive Borikén would like to thank Edgardo Miranda-Rodríguez from the bottom of our hearts for helping us get our "first major fund raising effort" underway. Your donation of this official La Borinqueña t-shirt design, highlighting Playuela, one of the causes that we provide DIRECT support to, is an invaluable step closer to the UNITY of Puerto Ricans world-wide. A vision we share with each other, and Boricuas everywhere. Un abrazo, hermano. GRACIAS
-Aimeé Montoya, Vive Borikén Founding Director
*************
May 12, 2017
La Borinqueña creator Edgardo Miranda-Rodríguez enclosed the following message with the donation of this design:
"Vive Borikén's mission is to unite Puerto Ricans worldwide for the cultural, environmental, and economic well-being of our mother land: Borikén (Puerto Rico). La Borinqueña as a comic book series shares these goals. I strongly feel that via the arts, we can inspire, elevate, and unite the diaspora. It is for this reason that under my Brooklyn studio Somos Arte, I hired Sara Ramos Sepúlveda from Utuado, Puerto Rico, to create this image of La Borinqueña in support of Vive Borikén's work. My collaboration with Sara exemplifies the power of a united diaspora. This La Borinqueña artwork is exclusively and officially licensed by Vive Borikén to help raise money for their efforts, all rights reserved. Please support."